The former All-Pro running back, who is still sitting in free agency, stirred up the NFL world this weekend with multiple social media posts, and now he's created conversations about a former head coach as well as his future in the league.
Le'Veon Bell's offseason has been filled with a lot of personal home workouts, rather than team workouts, to go along with his heavy use of social media to fill the spare time he would normally have filled by OTAs and minicamps this time of the year.
This last weekend one social media post, in particular, got away from Bell and ended up creating a fury of questions, assumptions, sports show topics, and arguments online about the 3x Pro-Bowler and the head coach he called out in the post.
The post in question was actually a comment by Bell on an Instagram post about a $700 order at a random McDonald's and his lone comment turned into a frenzy of questions and insults about his current job opening.
Bell, who is known for being a vocal player who doesn't mind airing out his grievances, was asked by a user by the name "@scumnazzey" about whether he was going to re-sign with the Kansas City Chiefs, his most recent team, to which Bell replied:

Bell's comment started a firestorm of conversations on both social media and on sports shows across the country, all debating whether Reid is different behind the scenes or whether Bell is simply sour that no team has shown interest in him since his ten-game stint with Reid's Chiefs this last season.
Either way the topic of the weekend, at least for NFL fans, was Bell and Reid and what could have stirred up this much emotion in Bell to the point he decided to say this publicly, especially considering he is still on the hunt for a new team.
Fast-forward about 48 hours and Bell was back on social media addressing the backlash that happened over his initial comment, and where some players go left in this type of situation Bell chose to go right…
Doubling down on his previous comments, Bell states that "HE" said something (with "HE" likely referring to Reid) which rubbed Bell in such a bad way that he would rather retire than play for him again.
This came as a shock to everyone in the NFL world, mainly because Reid is one of the most well-respected and highly-praised coaches in the entire league, and has been for over two decades. Not to mention, Bell never mentioned anything that would have helped predict this behavior–much like Marcus Peters did after he was traded to Los Angeles by Reid for essential pennies.
And while Reid seemed to be the root of Bell's problems with Kansas City, it would appear he had a good time connecting with the city and with his teammates, something he reassures his followers with the tweet about how close the locker room was and how good the food in Kansas City is.
Shortly after those tweets Sunday night he followed it up with an acknowledgment about the manner he went about expressing his feelings and how it may not have been the best way to do so:
This was a breath of fresh air, most likely for his agent, but less than 24 hours later, Bell felt the need to comment on social media once again, this time replying to another known cryptic-tweeter, and former teammate, Chiefs safety Tyrann Mathieu: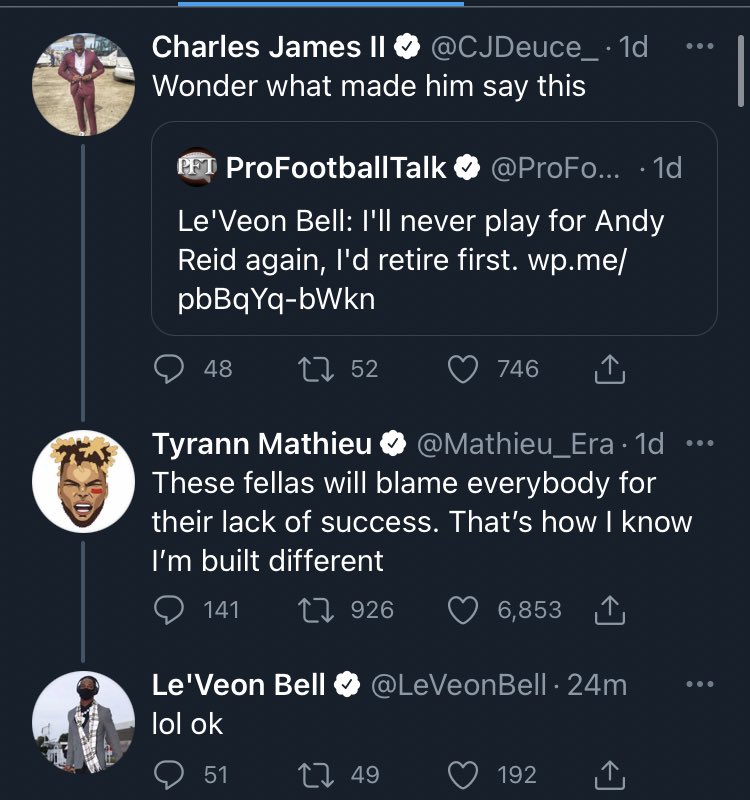 Mathieu is in the midst of his own twitter-based narrative right now with all eyes of #ChiefsKingdom watching his vague tweets with the utmost attention, typically exaggerating and comparing every word of his social media with his ongoing contract negotiations with Kansas City.
Bell has shown he doesn't mind airing out his dirty laundry on social media, and with his newest addition (above) underneath the Chiefs' defensive Captain, it just means he is still trying to keep attention on him as well as try and push his narrative in his own way.
No matter what else comes of the Bell vs. Reid story there is still the question of whether or not Bell will be on an NFL team this season, and my gut feeling says that at least eight teams will be off the Bell train for the near future.
Why at least eight? Because that is the amount of NFL teams that have a member of Reid's coaching tree either as their head coach or as a high-ranking assistant coach or coordinator.
Many people have come to the defense of Reid on sports shows and social media, but none will have his back more than the men who have piggybacked on his success and helped him achieve accolades while he too has pushed for them to succeed further in the NFL.
Men like Chicago Bears head coach, Matt Nagy, who could use a legit RB2 or "just in case" type of back right now, but also has such deep roots underneath Reid's tree that it does not seem likely for the two to be a match.
In the end, it is Bell who is still looking for a new day job, not Reid, and while he doesn't necessarily need the money, he is still obviously aching to play the sport he loves, and he doesn't mind sharing about his plans or his problems.
If he can stay off social media and stop creating a continuous public relations nightmare, then maybe a team will take a chance on Bell sometime early in the season when a star running back goes down for the season (God forbid), or a player doesn't pan out to be as good as the organization thought they would be.
Either way, Bell is not doing himself any favors with his Twitter account. Maybe he could take a page out of Chrissy Teigen's or Donald Trump's book and just put the phone down for a little while…
---
Agree? Disagree? Let me know in the comment section below or through Twitter (@SportsGuyShawnO) and be sure to check out more free articles on Border Fuel Sports!