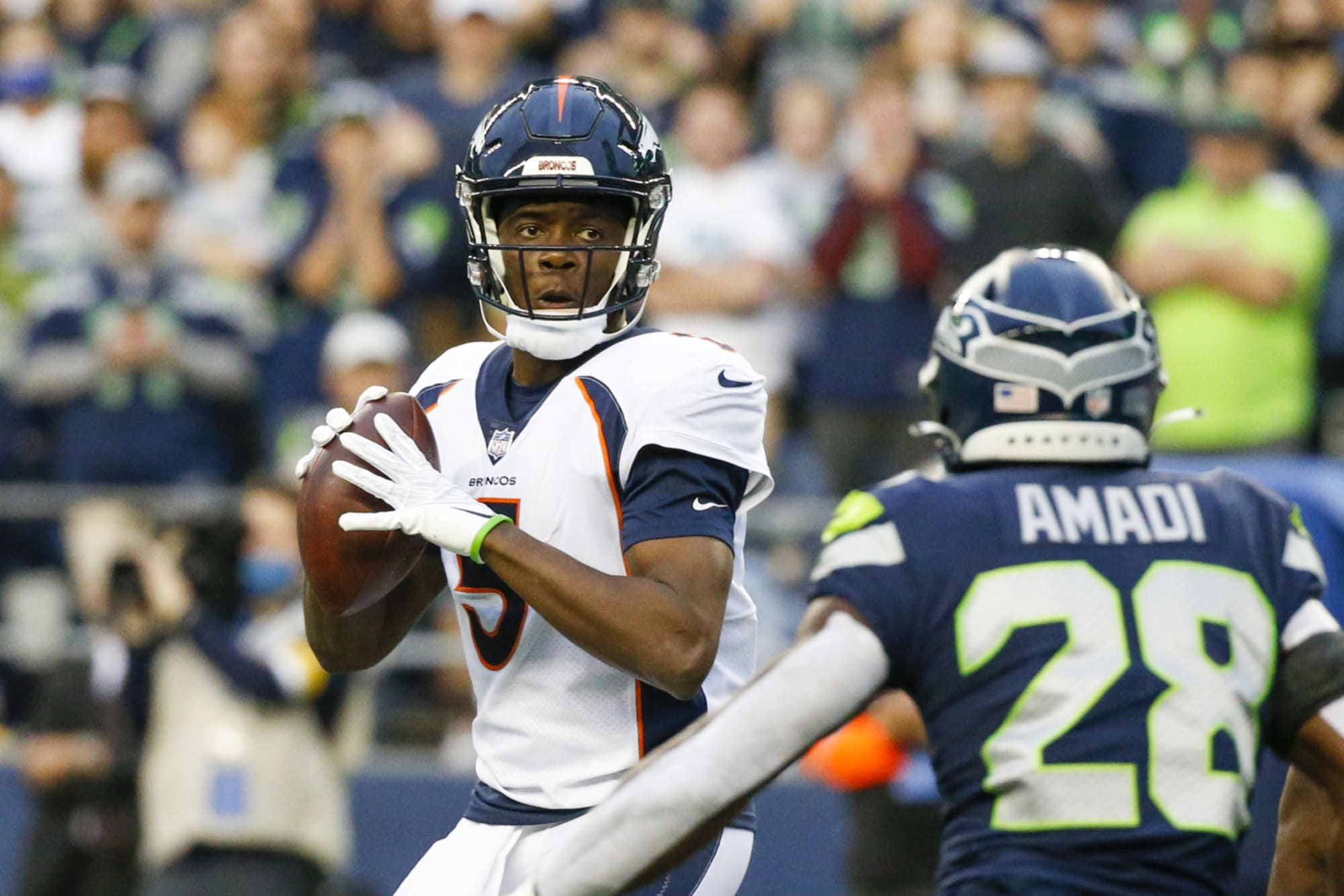 Overview
With the NFL preseason behind us, the fight for the Super Bowl begins in just five days! The injury bug bit a few squads along the way, and a shocking QB battle outcome will surely make for an exciting season. Here are my Week 1 NFL Power Rankings.
NFL Power Rankings Part 2
Click here to view our Offseason Power Rankings.
32. Houston Texans (–)
Houston put together some impressive preseason performances, including a win over Green Bay. However, with the worst QB situation in football, there was a lot left to be desired from that group. Tyrod Taylor is better than most give him credit for, but I truly have a hard time seeing how he can succeed with this group.
If there is one thing to be happy about in Houston, it is their potential in the running game. Phillip Lindsay, Mark Ingram, and David Johnson form one of the deepest running back rooms in football. With that being said, I would have taken that opportunity to acquire some draft capital by trading one or two to an RB-needy team.
Moving Shaq Lawson for a 6th-rounder was a good move, considering he may have been cut otherwise. They could use another solid linebacker, but maybe they could sign someone like… Benardrick McKinney?
31. Detroit Lions (–)
Poor Jared Goff. I knew his supporting cast would be the worst of his career, but it is getting slimmer by the day. Breshad Perriman failed to make the squad, and DeAndre Swift is in danger of missing some time. Even the offensive line has been a little underwhelming, with first-rounder Penei Sewell struggling in his transition to right tackle.
On the bright side, the defense should improve from last season, although it would be hard-pressed not to. Rookie linebacker Derrick Barnes is looking like a steal, and the Lions are finally moving on from Jahlani Tavai. The defensive line will be young for sure, but the potential is really exciting.
This could be a great opportunity for Jeff Okudah to snap out of his rookie slump and step up. This defense desperately needs the lockdown presence he was drafted to bring. Speaking of stepping up, the wide receiver room has some intriguing talent in Amon-Ra St. Brown and Quintez Cephus. I am excited to see how they are used this year.
30. Cincinnati Bengals (-4)
Cincy is probably due for a rough season. Joe Burrow has been brought back slowly, and for good measure. However, I do not know how willing I would be to throw him back into the fire if you are convinced he is your franchise guy. The offensive line has not improved much, and they failed to upgrade much on offense.
First-round pick Ja'Marr Chase has struggled thus far in his young career and may have some off-field issues to deal with. The tight end position still lacks a reliable option and the loss of Giovani Bernard could impact the passing game as well.
Losing impressive rookie Joseph Ossai to a season-ending meniscus injury was a brutal blow as well. This group could very well have a bright future, but right now, they just seem to be a team without an identity.
29. Philadelphia Eagles (+1)
The Eagles have made an interesting move at quarterback. We all watched Carson Wentz regress following the acquisition of Jalen Hurts. Now Philly has brought in Gardner Minshew to compete with Jalen Hurts… and I do not know how to feel about it.
While I really like Minshew as a player, I feel like he brings a lot of the same limitations that we see in Hurts' game. I am not sure one of them will be able to succeed more than the other in this situation.
The offense may be more serviceable than most think, but ultimately, this season depends on how well (or poorly) the Eagles manage their quarterback room.
28. New York Jets (–)
I could not move New York any higher in my power rankings, but I am impressed by what I have seen thus far. Zach Wilson, whose situation I was concerned about, exceeded expectations in the preseason. If he can keep the Jets relevant in the passing game in 2021, I think they could surprise a team or two.
Speaking of the passing game, I am in love with how New York has assembled itself. First, they grabbed Corey Davis and Elijah Moore to lead the WR room, and then they added Tyler Kroft to give Wilson a legitimate target at tight end. Finally, they signed Morgan Moses to give New York the best offensive line they have had in a decade. Wilson could actually contend to be the Rookie of the Year.
The defense may struggle, especially after losing Carl Lawson for the season. Jarrad Davis and Vinny Curry are starting the year on IR as well. They made a trade for Shaq Lawson to save face a little, but I am not sure how confident I am in him after watching two teams ship him out in just over six months.
27. Las Vegas Raiders (-2)
I may be lower on Las Vegas than most, but I am just really having trouble finding what to be excited about. I am not a fan of their WR core outside of the upside of Henry Ruggs and Bryan Edwards. They doubled down on their strongest position (running back), while diminishing their offensive line talent.
I just fail to see how that is a recipe for success. Even if Derek Carr is better than I give him credit for, how do you expect him to drag this offense to a respectable record?
The defense made some moves, but most of them will not live up to the hype. They paid $26 million for a defensive end that I believe has regressed over each of the past three seasons. I liked the selection of Trevon Moehrig, but it just seems like putting a Band-Aid on a bullet hole to me.
26. Jacksonville Jaguars (+3)
I was not high on Jacksonville after the offseason, but I am starting to come around. They certainly have a bright future ahead of them, but perhaps they could see success sooner than we think. Trevor's weapons look great, even with Travis Etienne being lost for the year.
I am disappointed that they failed to find a solid option at tight end, but I am in love with the Tyron Johnson addition. He was surprisingly cut by the Chargers after some exciting games last season, and now he has a chance to thrive in Duval. With Laviska Shenault, DJ Chark, and Marvin Jones, Trevor should still be everyone's favorite for Rookie of the Year.
I was not a fan of the Etienne selection earlier this year, and now we have the opportunity to see James Robinson control this backfield again. I really hope he looks as good as he did last year and earns himself a big contract.
25. New York Giants (-1)
Daniel Jones will have no excuses this season. He has too many weapons available to not take a step forward this season. Saquon is back, and Kenny Golladay brings a new element to that offense. Throw in Kadarius Toney, Sterling Shepard, Darius Slayton, and Evan Engram and this offense should be lights out.
Granted, the offensive line has not really been upgraded much, but surely they can scheme up some ways to get the ball out of Jones' hand quickly. If not, this could be another long season.
The defense should improve this season, but I am not holding my breath that they will become difference makers. The secondary looks pretty solid, but the trenches severely lack depth.
24. Atlanta Falcons (+3)
The Falcons surely have firepower on offense. Even without Julio Jones in the mix, the passing game SHOULD be among the league's best. Kyle Pitts is a truly revolutionary talent at tight end. Calvin Ridley has a chance to be a top-five wide receiver in 2021. I even think Russell Gage could turn some heads as the WR2.
However, the story with this team lately has been the defense. They are going to be heavily dependent on Isaiah Oliver and AJ Terrell at corner, and I am not sure they are ready to carry the load. Grady Jarrett and Deion Jones will make the front seven look better than they are, but there is no way they can cover up all of Atlanta's issues.
I am really excited to see Richie Grant in action, but I do have some concerns about how much he will be asked to do. With the Falcon's lacking secondary, he could be in over his head.
23. Chicago Bears (-1)
Depending on how soon we see Justin Fields in action, this ranking could change very quickly. He looked amazing in the preseason, and may finally be the key at quarterback in Chicago. However, I still worry he could be limited by Matt Nagy.
If I were a Bears fan, I would have both fingers crossed that Nagy is canned before the season is over. If so, we could have the chance to see Justin Fields in an explosive offense. After all, he does have some weapons at his disposal with Allen Robinson, Darnell Mooney, and David Montgomery.
The defense will still be above average, but it is such a shame to watch that talented unit age away. Despite some amazing year, it all just kind of feels like a waste as the offense drags behind.
22. New Orleans Saints (-3)
The Saints do not really have a bad roster, but it all starts with Jameis Winston. If he can step up and use that big arm of his, the Saints have an outside shot at the playoffs. However, his weapons will be lacking the first few weeks of the season.
Michael Thomas is starting the season on the Physically Unable to Perform list but sounds like he could return after the Saints' Week 6 bye. If so, they could make a late-season push in the playoff race. However, that will require Winston not to fall too far behind without him.
The defense will be as sharp as ever, with Cameron Jordan, Demario Davis, and Marshon Lattimore leading each level of the unit. Paulson Adebo has a chance to step up in his rookie season, and New Orleans was able to sign Kwon Alexander to solidify the linebacker room.
21. New England Patriots (-3)
I am still in shock. The Patriots moving on from Cam Newton just leaves a few questions with me. In the long run, maybe it will pan out better with Mac Jones getting more snaps. After all, he was one of the most pro-ready QBs in the draft. I just think it may hold back the team in the short term.
The offensive weapons certainly improved, but I am not sure if they are serviceable for a young Jones yet. Hunter Henry and Jonnu Smith should help out a lot. However, the WR room is not much better than they were last year. Nelson Agholor has some upside, and I like Jakobi Meyer's progress, they just lack that star power.
The defense has no excuse to not rebound, with a lot of new starters added or returning. I was a little disappointed they could not find trade partners for Akeem Spence or Montravius Adams. I am sure they did their due diligence, but not finding trade value in your deepest positions leaves a sour taste.
20. Carolina Panthers (+1)
Terrace Marshall may give the Panthers a top-three WR trio by the season's end. He has looked dominant all preseason, and his playstyle will give Sam Darnold a great weapon in the passing game. Speaking of Darnold, he is one player I am ecstatic to watch in 2021. He should take a massive step forward, because if he does not, he may be out of chances.
There really is no possible scenario to me where the Panthers do not progress offensively. They have bolstered the tight end room, the running backs are lead by Christian McCaffery, and the offensive line is starting to turn around.
On the other side of the ball, youth and inexperience may initially hold them back. Once those snaps start piling up though, Carolina will be DANGEROUS. Their explosiveness on defense should bring opposing offensives to their knees. I am so excited to see Jaycee Horn blossom into an All-Pro corner.
19. Pittsburgh Steelers (+1)
The Steelers could easily be higher than this. I just have this imaginary limit in my head as to what their offense can do. I think Big Ben's best days are far behind him. We may be looking at another Drew Brees situation where a former superstar is now holding back his team due to his regression.
Najee Harris should be a top-three Offensive Rookie of the Year candidate. Many will point to the team's offensive line issues, but it has not seemed to affect him yet. There may be some issues if injuries pile up, but until then, he could run wild.
The defense may be what carries Pittsburgh to the playoffs. Minkah Fitzpatrick has been incredible since being traded from Miami. Cameron Heyward remains one of the most consistent and dominant forces on the defensive line in the league. If Devin Bush steps up, this unit is dangerous.
18. Denver Broncos (+5)
I was on the edge about Denver before the season started. An awful lot rides on their quarterback this year, and they needed to manage their QB competition the right way. Fortunately for them, both Teddy Bridgewater and Drew Lock played their butts off and made it a tough decision.
Ultimately, I think they made the right choice. This offense and its weapons are enough to make any QB look better than they are. If Bridgewater stays as consistent as he did during the preseason, he should be more than enough for the Broncos this season.
Much like Pittsburgh, Denver could very well find itself in the playoff race due to its incredible defense. With elite duos at pass rusher, corner, and safety, teams will be hard-pressed to pass the football against the Broncos.
17. Miami Dolphins (–)
The Dolphins have yet to show me enough to move up. They could still be a playoff candidate if Tua steps up big, but things could also go south quickly if he does not. He certainly has weapons to use in Devante Parker, Jaylen Waddle, Mike Gesicki, and eventually Will Fuller.
Myles Gaskin is also among my favorite breakout candidates in the league. He was very productive in his seven starts last season, especially offering a spark in the passing game. If he can find a little more room in the running game, he could be a franchise back for the Phins.
With Xavien Howard back in the mix, Miami's defense should be a strong force yet again. I was disappointed that the trade for Benardrick McKinney did not work out, as they released him during roster cutdowns. If Jaelan Phillips looks like the DROY candidate we expect him to be, the Dolphins could make some waves.